Enjoy the fresh Pyrenean air, visiting one of the loveliest parks for the whole family.
Watch the different animal species in semi-freedom, and the abundant flora, while you enjoy the marvellous views of the valley throughout the tour.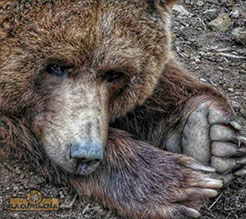 THE TWO NIGHT PACK INCLUDES:
A two night stay
In a double apartment with one bedroom, a kitchen, and a sitting room.
Buffet breakfast
Nespresso coffee, Infusions, Cocoa drink, Assorted cold meats, Water and fruit juices (not natural), Assorted pastries, Toast with assorted breads, Butter, Jam, Honey, Tomato and olive oil, Hot foods, Seasonal fruit, Cereals, and Nuts.
Family Spa
RA one hour tour of our water circuit, where you can enjoy the effects pool with waterfall, swan necks, geyser, water beds, Jacuzzi, sensory shower circuit, foot bath, and relax area.
Children's activity: Visiting the Faunistic Park of Lacuniacha
The park is located near the small village of Piedrafita de Jaca, 2 km away from the village centre, and at an altitude of 1380 m. It extends over 75 acres of the forest known as "La Pinosa", and it constitutes a unique balcony to admire the marvellous views of the valley and, of course, of the Peña Telera peak, and all of the Sierra de La Portacua range.
The park offers visitors a 2 to 3 hour walk through the hills – unless you prefer to take it easy in the rest areas and kiosk-bar, where you can buy cold and hot sandwiches, coffee, cold drinks, ice-creams, etc., to be consumed in the adjoining picnic area.
Parking
Private store room included.
The offer does not include transport to the activity's sites.
You may ask for prices for more or less days of accommodation and/or Spa.
For the Spa, use of appropriate cap, sandals and suit is mandatory. One hour duration.
Children's Spa's time-table: Tuesday to Sunday, from 17 to 18 h. The Spa closes on Mondays for a weekly rest.
Daily cleaning of the apartment is not included.
Minimum contract 2 pax. VAT included. Offers are subject to demand and availability, and may not be combined with other offers.
We recommend the use of mountain footwear and warm clothing. Not adequate for baby prams.
Children includes those from 5 to 14 years of age.