Gourmet delights of unbeatable quality
In our Gourmet corner you can find limited edition artisan products produced in the region, mainly in the Aragonese and French Pyrenees.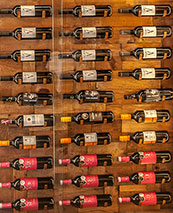 Cheeses, cold cuts, and artisan honey from the Pyrenees
From Huesca, produced in the traditional way. Olives and pickles from Aragon.
Olive oil
Superior category from a type of olive which is unique in Spain, a variety from the nearby Somontano region called Alquerazna. Produced by mechanical processes.
For wine lovers
"SED", a one-of-a-kind limited edition artisan wine from the Monegros desert, as well as other special wines carrying the origin designation tag for the Somontano area.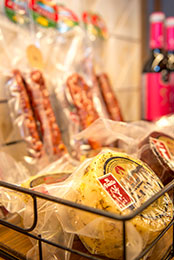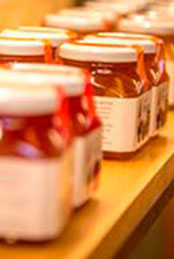 Grandma's jams, liquors, and chocolates
La Abuela (grandma), a brand of hand made products with a very particular blend of flavours and ingredients making them both original and exquisite.
Pâté and foie gras
Produced in the neighbouring French Pyrenees, and of a superb quality.
Biscuits and beer
Artesana, Pirineos Bier, a brand of totally artisan beers with different flavours, crafted at a Pyrenean microbrewery in the nearby Hecho valley.